In any field or organization, effective leadership is crucial for success. A good leader can galvanize a team and help them achieve goals.
It's no secret that leadership is important in the workplace. After all, a business can't run without someone in charge. But what many people don't realize is just how crucial good leadership is for an organization's success. Here are just a few reasons why strong leadership is so essential in the workplace.
Reasons why leadership is important in the workplace
Leadership is important for a number of reasons. Firstly, leaders can provide direction and motivation in the workplace. They can inspire employees to achieve company goals, and help to create a positive work environment. 
Leaders can also provide guidance and support, making it easier for employees to deal with difficult situations. 
Additionally, leaders can help to build team morale, and promote collaboration within the workplace. Finally, leaders can serve as role models, demonstrating the importance of professionalism and commitment. 
By exhibiting these qualities, leaders can set the standard for others to follow.
(1) Leadership is important for improving communication
A good leader will have a clear vision of where they want to take an organization and will encourage those working under them so that everyone understands their role in helping the company achieve its goals.
This helps improve communication between employees.
(2) Good leaders create a better working environment
Good leaders will create an efficient structure within their team to ensure that everyone has what they need to do their job well.
They will motivate the employees and make them feel like they are part of something important, rather than just another cog in the wheel. This helps create a better working environment.
(3) Good leaders improve productivity and efficiency
Good leaders help improve the productivity and efficiency of their employees by helping to train them on necessary skills needed to do their job well, such as communication or managing projects. 
This way there is a more consistent performance, which will lead to more positive results for the organization after some time.
(4) Leadership mitigates risk in the workplace
A good leader will come up with plans to mitigate risks and help improve the organization. The plans might be different from one organization to the other but would help improve productivity and quality.
(5) Leadership increases motivates and morale in the workplace
Good leaders will be able to motivate employees and help them work towards the company's goals. This will ensure that team members feel empowered and engaged in what they do, producing better results for the organization.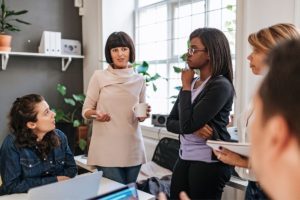 "Leadership is the ability to facilitate movement in the needed direction and have people feel good about it." - Tom Smith 
(6) Good leaders manage employee expectations
A good leader will be able to manage expectations so that everyone feels like they can achieve their goals through hard work and dedication.
They will also inspire their team members to keep moving forward when they are faced with obstacles that might hinder them from achieving their objectives.
(7) Leaders are important for delegating tasks
A good leader will be able to handle the delegation of tasks, making sure that everyone knows exactly what needs to be done and in which order it needs to be completed.
With this system in place, there is no confusion about what needs to be done and when.
(8) Good leaders gain respect from colleagues
If you are an effective leader then people will naturally want to follow your example and it will become easier to gain the respect of others around you.
This allows for an organization to function more effectively since everyone knows where they stand and what is expected of them.
(9) Good leaders set an example for their employees
Good leader sets a good example for their team members by taking responsibility for their actions, being punctual, and working hard to achieve the goals they have set out to accomplish.
They will also be more focused on providing valuable input that can help make the organization even better.
(10) Leaders are important for making an impact in the workplace
Leaders can create much more of an impact on those around them than employees who are just following orders because they have the support and respect of their team members.
Their efforts will also be heavily appreciated by management, which is something that every employee would want to experience at work.
(11) Leader is vital for creating a vision for the future
A good leader will be able to plan and direct the organization's growth in the future. They will help set more long-term goals so that everyone understands where the company is headed and work towards these goals.
A good leader will know exactly what they want to do and how to get things done in order to get the company where they need it to be in order to make money or provide their service.
They can "visualize" themselves and their team members achieving the goals that they have set out to accomplish.
(12) Leadership reduces stress in the workplace
A good leader will be able to understand what stresses out employees and find ways to prevent it from happening or resolve any problems that may arise from it.
They are also able to help their team members deal with their stress levels in the right ways.
(13) Leadership is important for providing focus for employees
A good leader can help provide a sense of focus for their team members, energizing them to work more efficiently and be more productive in what they do since there is someone keeping everyone on track throughout the day.
They are also able to identify exactly which steps need to be taken in order for their team members to get the job done.
This allows new employees to get acclimated to their jobs quickly and eliminates the amount of time it takes managers to teach them what they need to know.
(14) Good leaders gain recognition from others
People will begin to recognize you as a leader if you make people better and help your team members and management accomplish their goals more easily than they would have before.
Many companies are also looking for leaders who can provide them with guidance that is clear, concise, and easy to follow.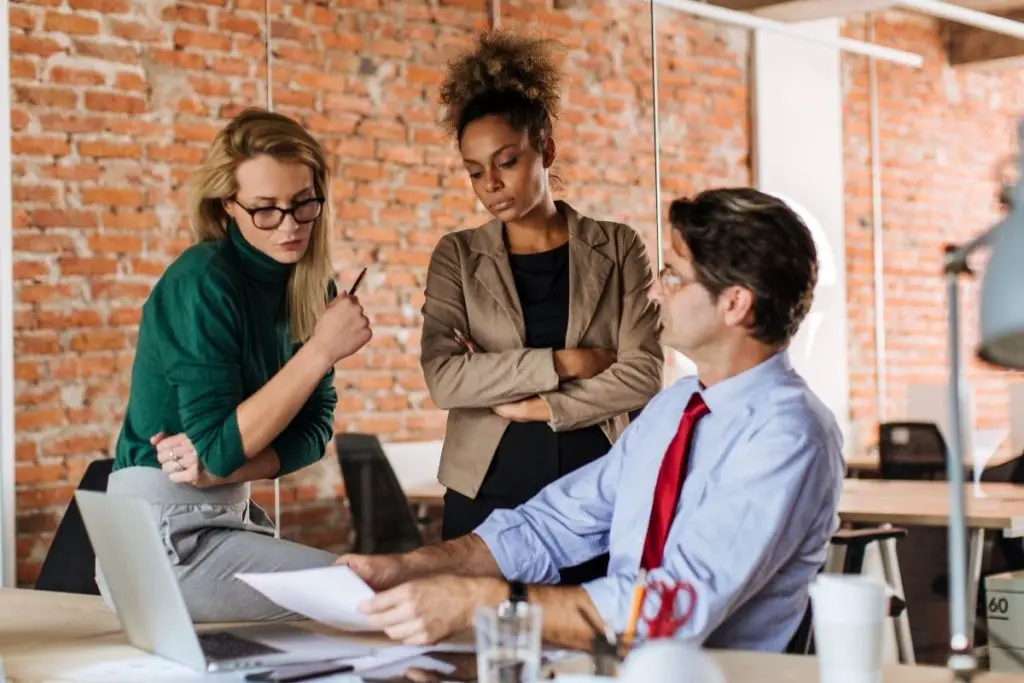 "The leader is the person who brings a little magic to the moment." - Denise Morrison 
(15) Leadership is important for empowerment and professional improvement
A good leader spends time with each person on their team to get to know them personally and understand how they can improve. This creates a more effective work environment where people feel empowered.
Having a good leader means that employees have someone who will guide, train, and nurture them so they can grow as individuals and perform better as members of a team.
(16) Good leadership improves trust
A leader can help you understand what your role is and how it plays into the big picture of the organization's success.
This helps an individual feel fulfilled and trust that their work has meaning to them and those around them.
(17) Good leaders help overcome challenges
A good leader can work hard to motivate their employees when they are struggling, by providing insight and perspective to help them overcome challenges and gain confidence in themselves.
(18) Leadership is vital for accountability in the workplace
Leadership is important because it helps keep everyone accountable for their work and ensures that all jobs are being completed in a timely manner to help the organization thrive.
(19) Leaders manage resources in the workplace
A good leader ensures their employees have everything they need to do their jobs well including support, guidance, and resources they require to get their jobs done.
What leadership qualities are necessary for success?
To be a successful leader, one must possess a number of important qualities. These include vision, decisiveness, integrity, and the ability to inspire others.
Of course, different leaders will emphasize different traits depending on their own style and the needs of their organization. However, all successful leaders share these essential qualities.
Read also: 
Essential Leadership Qualities for Long-Term Success
4 Short-Term Leadership Skills To Excel Immediately
Final words on why good leadership is important in the workplace
Leadership is important in any workplace because it not only gives direction to the team but also inspires them.
The blog post explored several reasons why leadership skills are necessary for your organization's success – do you agree?
What other benefits have you experienced from having a leader who holds themselves accountable and encourages others to succeed?
Share with me what has worked best for your company or department.
Related topics
Leadership pitfalls
Leadership is one of the most important aspects of any business or organization. However, many pitfalls can lead to disaster.
In this blog post, we will explore some of the most common leadership mistakes and how to avoid them. We will also look at some strategies for successful leadership.
So, whether you are a new leader or an experienced one, read on for valuable insights into effective leadership. Read more
Do you want to be a good leader?
Leadership is an important part of every organization. It's the ability to influence others, get them to work together toward common goals and achieve success. 
If you are interested in becoming a better leader, then this course is for you. Read more
Reference
Sonmez Cakir F, Adiguzel Z. Analysis of Leader Effectiveness in Organization and Knowledge Sharing Behavior on Employees and Organization. SAGE Open. January 2020.